Communiqué: RAILSHINE @ SIFER 2015, Lille, France, from 24th to 26th of March, 2015
From 24th to 26th March, 2015, Railshine will be present at Lille on the 9th international railway industry fair, SIFER 2015. Railshine will present these new railway feeding solutions, included:
Multi-products locomotive refueling service-station
The locomotive fuelling service-stations are global solutions for optimization of locomotive refueling in fuel, engine oil, coolant, and windscreen washer. They enable an important cost managing, a technical monitoring of all locomotives, an operational monitoring of feeding, a maintenance managing thanks to PC, and a reliable data processing such as fuel tank levels, train refueling operations, and operators who feed.
For further information: Multi-product locomotive/train refuelling service stations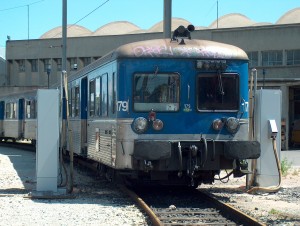 Railshine confirms the spread of sanding units with automatic guns specifically adapted to rolling stocks.
Locomotive exhaust extraction systems
Locomotive exhaust extraction solutions for maintenance depots are designed made to measured, offering 5 different concepts to answer to train depots issues, whether it is in presence of moveable rigid catenary, overhead crane, or on several points of the depots. The extraction hoods offer a high capacity of extraction at low pressure to absorb all exhaust gas during parking operations and locomotives maintenance in train depots.
For further information: Locomotive exhaust extraction fumes for train depots
Retractable rigid catenary
Foldable catenary solution is applied to all maintenance depots, for all lengths and voltages. It enables power supplying all train in maintenance depots and authorizes the entrance and the exit of all train thanks to these pantographs.
For further information: Moveable rigid catenary system with jib arms
Multi-voltage power supply systems for depots
For the feeding of retractable rigid catenary inside train depots, Railshine provides power supply stations from 1,500V to 25kV, and wants to be multi-voltage according to the needs of the maintenance depots.
The anti-icing system proposed is a preventive solution avoiding the frost accumulation and formation of snowdrift. Specifically designed for railway industry, the anti-icing system is a good answer to all the issues linked to climate and significantly improves safety all around the rolling stock.
For more information: Train preventive anti-icing system.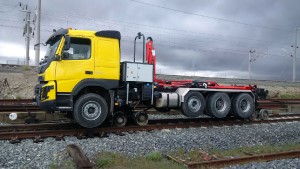 SIFER exhibition will be the opportunity for Railshine to show its last news road-rail vehicles solutions. These last generation vehicles, innovative, adjustable and various, are good answers torailway network needs.
Visit the dedicated website of SIFER 2015 exhibition for further information: Railshine at SIFER 2015 – Invitation .